Copy the files into OldDBBackup folder


Note: It is assumed that you know where to get a copy of your Tarantulas App data, if not, please read Where's my Tarantulas App data? or send an email to support@exotikeeper.net for more info.

Open your favorite file explorer app and go to your device's storage, depending on your file explorer app, it can be 'Internal Storage', 'Main Storage', 'Local Storage' or 'SDCard'.



Navigate to Android > data > com.myexoticpets.p3kb > files > OldDBBackup, create the folders if they are missing, and paste all your Tarantulas App data.
The 'OldDBBackup' folder should contain the files like the image below.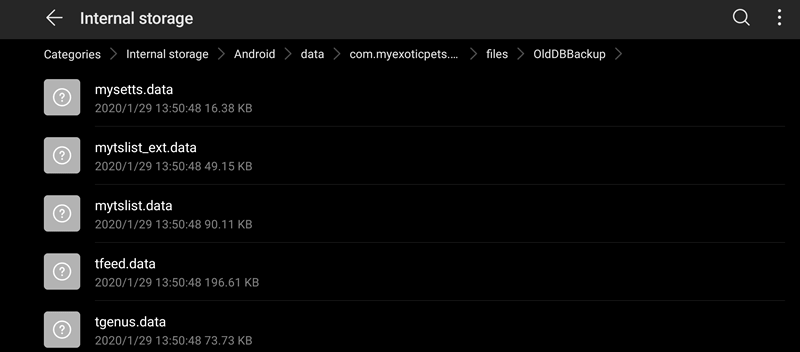 Now, restart your ExotiKeeper app if it is running and navigate back to the import page.
You should now see a new button 'Import from OldDBBackup directory?'.



Click the 'Import from OldDBBackup directory?' button, read the message from the popup box and click 'Yes!' if you agree.


Wait for the import process to finish.